Wedding Venues in Delhi

Your imagination of a perfect wedding wouldn't be complete without a perfect wedding venue. And to match your imagination of a perfect wedding venue we have come up with not only banquet halls but hotels, farmhouses, party lawns and more. At FNP Weddings, we only expect you to let us know the factual details such as your guest, capacity and budget and leave the rest to us. We will definitely surprise you with some amazing wedding venues in Delhi which comes within your budget fulfilling all your requirements along with multiple cuisines.

Premium wedding venues complemented with premium decor
Our wedding organizers in Delhi make sure that all the wedding venues have been well equipped with the basic amenities of life. We feel that it our responsibility to take care of your guests, hence, we have both well managed and experienced staff to ensure that they have the best of experiences
If you have something in mind, do let us know. We have many spectacular venues for wedding in Delhi from manicured lawns to richly embellished wedding banquet halls. These are some of the sought after venues that we have which are appropriate for both wedding and pre-wedding functions. If you are worried about the decoration, don't worry our specialized and experienced wedding decorators in Delhi will ensure that you have the best of the services for the occasion. From a luxurious celebrations to a sophisticated one, we have top wedding venues in Delhi which is surely going to suit your upscale taste.
Our FNP Gardens comprises of 3 spectacular and jaw dropping properties namely 'The Kundan Farms', 'The Shagun Farms' and 'The Brij Green Farms.'
Ambience Golf Drive
If you are looking for something truly grand and luxurious then it is best to go with Ambience Golf Drive whose interiors well matched accessory will leave you truly jaw dropped. It has an air of elegance, charm and supreme sophistication too which comes along with it.
The Kundan Farms – The Kundan Farm is located away from the usual hustle-bustle of Kapashera, Delhi, just beside NH8 Highway. The lush green lawns and the massive parking space becomes the show stealer of the property. It is ideally suited for grand gatherings like wedding, concert and many corporate events too.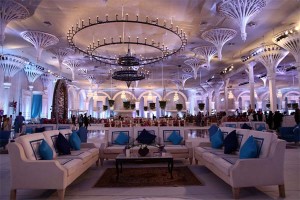 Shagun Farm
The complete serenity that surrounds this farm gives it an edge over others. It has the perfect amalgamation of subtle greenery which is well complemented with the best of the ambience that we have for your guests. The natural ambience of trees, palms and open spaces makes it an ideal location for every event.
Brij Greens Farm
The farm has been blessed with an air of purity and sincerity for being located in Chattarpur Mandir Marg. We believe in making your perfect occasion memorable by having a full-fledged air conditioned hall which is coupled with venue, décor food and all the other basic amenities.