Every Indian wedding venue will have a lavishly decorated stage where the bride and the groom sit and welcome their guests who have gathered for the wedding to bless them. And decorating that stage is a significant part of the wedding, as it has to be grand and beautiful. You can enlist our timely and skilled services for beautiful wedding stage decoration at affordable prices.
Wedding stage decoration
In a traditional Hindu style wedding, the ceremony takes place in an open ground where a stage is prepared. Wedding stage decoration is just like a new bride as it is the centre of attraction of the entire ceremony because the new couple sits there. Basically it is done in cultural or ethnic style. But in case you are having a theme wedding, you can get the stage decorated similar to the theme of the wedding. Several agencies have come up for this purpose and also for providing guidance. Fresh flowers are placed along with elaborate lighting and bright artifacts to make the stage become the hero of the wedding ground. We provide professional help for this purpose. Be sure to get a stage beautifully crafted to match the standard of the wedding day. We provide classy backdrop and our florist can work wonders to make the stage look amazing.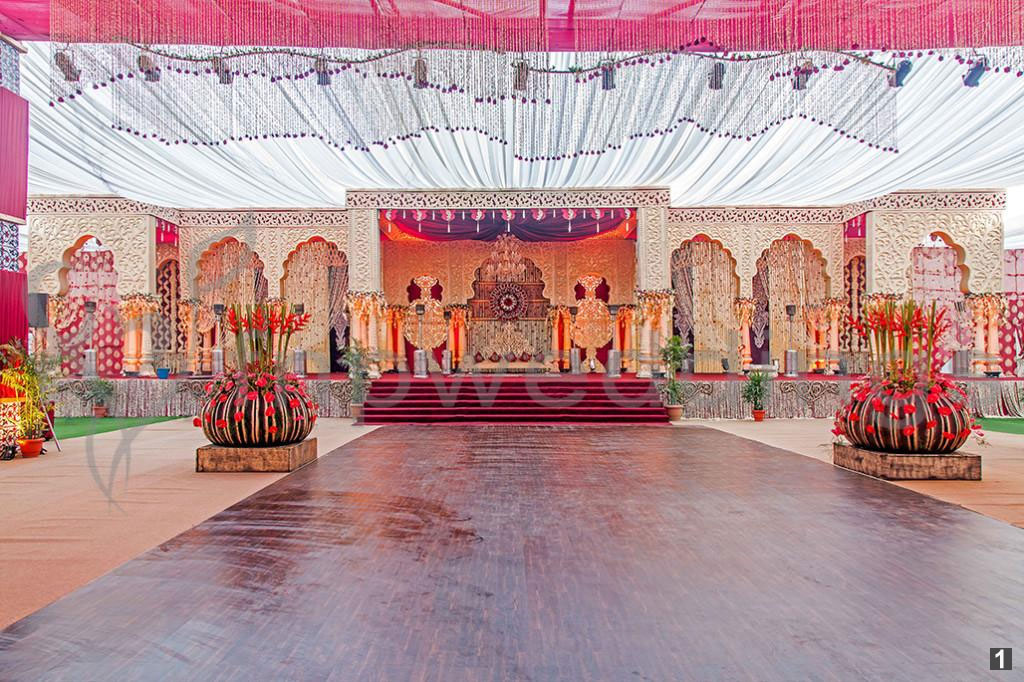 Stage decoration for wedding
There are various items required for stage decoration for wedding. We also provide these like breathtaking foyer displays, stage props, artificial/ silk flowers, Ice sculptures, Table deco, wedding cake, live music band, hall décor and so on. Our designing team creates a 3D model of entire stage for you to visualize how your wedding stage decoration is actually going to look like. You can get it customized as per color preference and budget. The couple's taste and preference is incorporated in the design. This is something that you can't handle it yourself. You will have to hire a local stage set up company to take care of this. Try hiring us and we assure you that you will have no chance of getting dissatisfied.
The show of the stage is actually brought to focus with the lights. That is why light decoration for wedding is an important part. We also provide shopping mall decoration for various occasions like Christmas, Diwali, Holi and many more.