Wedding Organisers In Delhi
Marriage is a big affair and has to be handled with lot of precision and tolerance. As it is a once in a lifetime event, people remember each and everything of marriages. As wedding organizers in Delhi, we are there to decorate the big day in the most spectacular way. Surely, your near and dear ones would love the greeting from you.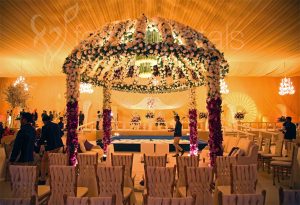 FNP Weddings.com is the most trusted wedding organizer in Delhi because we know the right choice of the customers. We do not bore customer with the same decoration and this is our strength that we keep on nurturing our creativity and come up with various themes on wedding decoration. Marriage is an important event of one's life and thus decking up well for this day is well understood. As an event organizer, we have been providing some fantastic service to our huge clientele.
There are many rituals, customs, and traditions that are followed in an Indian wedding. Maintaining each and every ritual and shopping regarding each and every ritual is really a laborious task. Friends and relatives are generally helping hands in this case as each and every one is given some sort of responsibility to carry out the wedding in a successful way. If you choose us as a wedding organizer in Delhi, we assure you that you can just sit and relax and get ready to witness the most lavish wedding ever.
Organize your weddings in the most stylish way
While you choose us, one of the best wedding planners in Delhi, you can be sure that your whole event would be a different one and also a matter of envy among your peers and relatives. Because from venue selection, invitation card, hospitality management, entertainment, to photography and catering – all are taken care by us single-handedly. Perfection is our sole aim and therefore we are always very serious about all the assignments we take up.
Marriage organizers in Delhi may have multiplied than before but as we are in this field since a long time, we are still the best because we believe there is no better or nobler job in this world than uniting two loving souls. So, if you happen to get married in Delhi-NCR, you can very easily contact us as and witness the great event with the aid of the best wedding organizer in Delhi-NCR.
Have a look at our website and check our work as well as the services we provide. We are sure that just having a look at one of the renowned wedding organizers in Delhi, you would want your or your loved ones marriage to be organized by us.