The focus on your wedding reception is the wedding table decorations. They occupy center stage at any wedding. They exude sophistication and blend it with an element of surprise for your guests.
The most common wedding table decorations are floral center pieces. We offer a gamut of floral center piece designs from beautifully compiled roses to striking lilies. We can create tablescape magic with traditional simple posies, candelabras, to more elaborate   contemporary floral showpieces. Candles create a exclusive romance that becomes the essence of your wedding.
Reception containers are chosen in a variety of metals from silver to brass and are extremely imposing and eye catching. FNP Weddings uses its creativity and acumen to create imaginative wedding chair covers. Our designs reflect your mood and make a personal style statement. You personality, style and cultural background are all reflect3ed in the wedding table decorations. For a perfect wedding that is delivered exactly as you envision it and beyond, come to FNP Weddings.
Here is a sampling of what is on offer: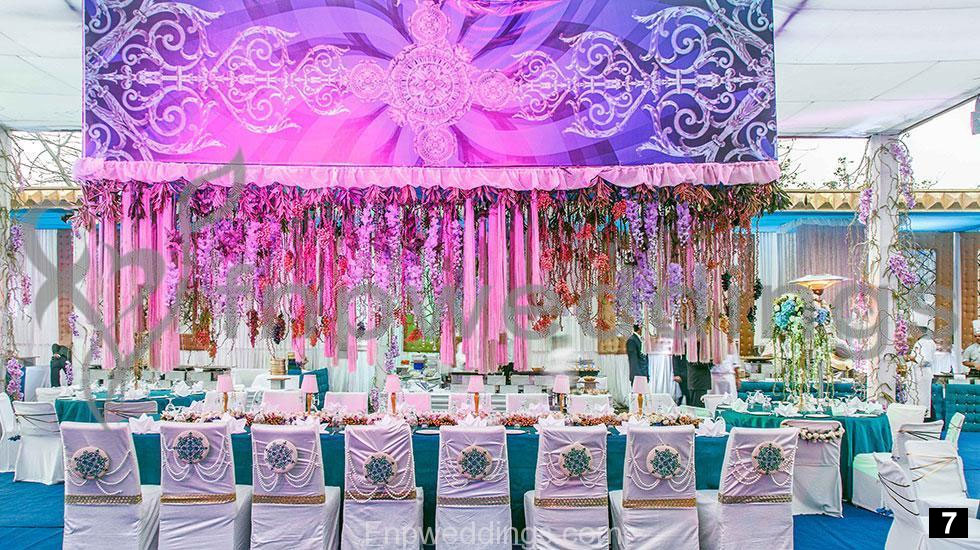 A low and compact arrangement of cotton ball white tulips brightens up the wedding table. FNP chooses something unique for reception containers. Silver vessels hold an assortment of roses, gladioli, orchids and chrysanthemums creating a floral chic. One option is to line clear glass bud vases with pops of bright and sunny yellow roses. For an outdoor event FNP pairs a crisp white foundation with bright orange flowers that let in the sun. To add a surprising twist, they add whole lemons to refresh and rejuvenate the tablescape. For a more rustic appeal, we encase glass votives in burlap and accent the table with simple bud vases. Hand woven containers for flowers make magical centerpieces.
FNP releases its signature colors to play together on the table. Turquoise vases hold magenta tulips and electrify the atmosphere.
If you choose a white palette, a ceramic tureen will serve to create the ultimate elegant dining accent.
To create a laid back look FNP selects low standing vessels in refreshing shades and fills them artistically with bursting stems of tangerine and yellow.
FNP uses its creativity and designing acumen to create beautiful wedding chair covers. Whatever be your mood, we will create an appropriate design that reflects it.FNP uses its skill to come up with a theme that fits your personality, style and cultural background and is reflected in your table decorations.
When planning a wedding it is important that everything is exactly as you envision it. We at FNP realize just how stressful a wedding can be despite the joy it conveys.FNP will help you to achieve the dream wedding you have always wanted with excellent wedding table decorations.