Wedding Planners & Decorators In Italy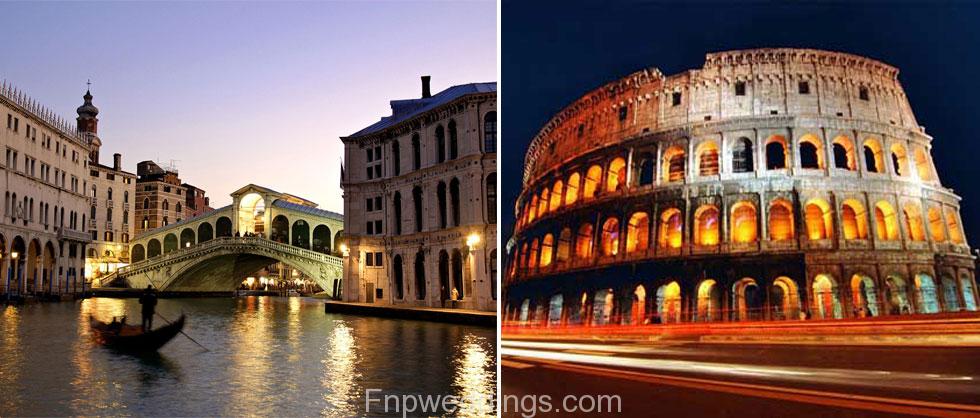 Wedding planning in Italy- An unforgettable experience!
At FNP weddings we strive to deliver excellence. Italy offers the ideal romantic venue for a perfect FNP wedding. We capture the essence of romanticism with our meticulous planning and execution. The charms of Italy are extolled across the world but it is to be seen to be believed. As the leading wedding decorators in Italy we offer you a one stop solution to all your wedding requirements. We assist you in the search for the best wedding venue in Italy. You will be spoilt for choice as ruins, castles or dream hotels are available in abundance.
A marriage is a sacred affair and we strive to make it ethereal. We understand all too well that this intensely private affair holds the reigns of your heart. We offer the entire gamut of services like wedding décor, venue selection, catering, cocktails, lighting, entertainment, photography, trousseau selection and invitation cards.  Let us translate your fondest dreams into reality and create a fairy tale wedding.
Our wedding decorators in Italy can make you a tailor made plan according to your needs and desires. You will be delighted with our services including the invitation cards design, itinerary arrangements, venue selection, airport and hotel hospitality services, variety of best culinary servings of different cuisines, stylish and well designed decorations, entertainment and photography.
So, if there a wedding planning required in the near future, let us handle your festivity starting everything from your arrival to a happy satisfied departure.
 Venues to get married in Italy:
• Hotel San Cassiano CaFavretto, Italy
• Hotel Centurion Palace, Italy
• Ca Dei Conti, Italy
• Hotel Metropole, Italy