The wedding is the most major milestone in a person's life. The planning for the pre wedding through to the main event and the post wedding is immaculate. Wedding planners offer new and innovative wedding themes and concepts which provide an unforgettable experience. Wedding planners specialize in fantasy, regal, fairytale or Bollywood themes. The wedding can be customized according to your fancy. In today's world clients often focus on one of a kind themes to make their weddings unique. These fascinating themes range from the conventional to the avante garde and post modern.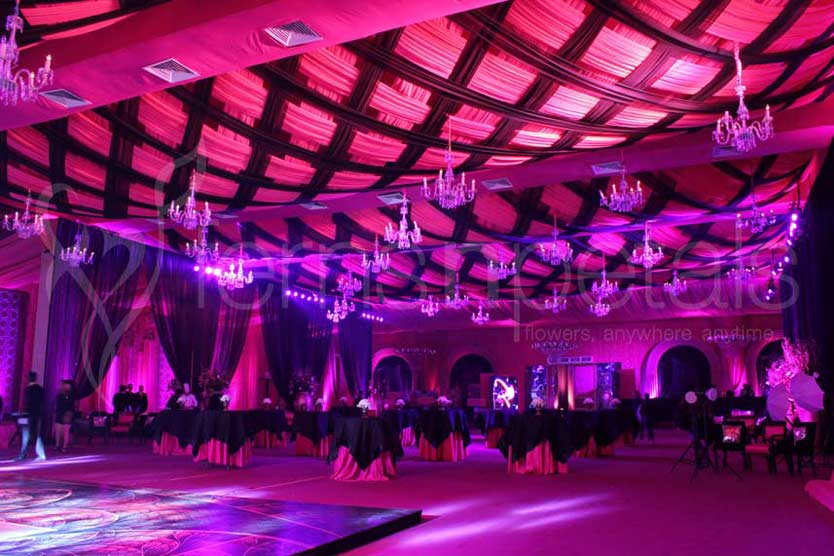 Theme weddings are known to be the ultimate crowd pleasers. The foremost wedding theme designer in India forge bonds with with critically acclaimed international designers to keep abreast of the latest trends in design. Their influential tie ups have left an indelible mark on the industry.  The talented planners also undertake some challenging and fabulous weddings abroad, where they have a palpable presence. Their teams are often comprised of highly motivated and talented designers such as JJ Valya, Sumant  Jayakrishnan, Tarun Tahiliani, Shikha Thareja and Bunty Agarwal, Preston Bailey, Rob Van Helden, Daniel Ost, Robert Koene. Their unique and talented teams meet success at every venture.
Here are some themes that our wedding planners love to implement:
+Tribal Land
+ Goan Theme
+ Indian Mela Theme
+ Fusion: Sea/Mist Green.
+ Fusion: Red & Black.
+ Fusion: Blue & Silver.
+ Fusion: White & Gold.
+ Peacock Theme
+ Roman Theme
+ Mauli Theme
Bazaar Mein Daawat
+ Rangila Punjab
+ Guajarati Dhang
+ Marwari Mela
+ Rajasthani Raj
+ Candle Light
+ Fairy Land
+ Jungle
+ Egyptian
+ Las Vegas
Themed weddings are a new concept that has taken the wedding market by storm. They are a blend of reality and fantasy and make the occasion much more memorable. The concept has been popular in the west and has recently gained popularity in India. Themed weddings are popular with guests and hosts alike as they fuse modern, unconventional ideas with the traditional. Wedding planners excel in delivering the ultimate theme weddings that will entrance worldwide audiences.
Choosing a wedding theme is a great way to create a cohesive look and feel at the joyous event. The theme has to be selected early on in the planning process to guide all your design and fashion decisions. A strong theme is also convenient for your wedding vendors as they come up with your cake, menu and decorations. You could attempt something as simple as "classic elegance " or make it much more complex. You probably have a good idea of how you want your wedding to feel. Casual or formal , you could decide on your style well in advance and make a spectacular wedding concept out of it.