Floral Accessories – Flower Jewelry, Car Décor
With our inimitable blend of ace floral decorations and thematic decorations we make your wedding a fairytale one unlike any other. It combines the traditional with the contemporary to deliver a state of the art wedding that will never date.
Indian weddings have a long tradition of decorating not only the wedding venue but also the bride with floral accents. It is a Bollywood favorite with mega stars like Shilpa Shetty and Aishwairya Rai Bacchan having donned floral jewelry.
FNP weddings specialize in providing floral jewelry in Delhi. Phoolon ki jewelry makes the bride feel unique and naturally attractive. The first view of the bride creates an everlasting memory with the Phoolon Ki Chadar. This is a sheet that overhangs the bridal walk make of the most beautiful and fragrant flowers.  Floral jewelry is very much in vogue for weddings and much more budget friendly than traditional jewelry.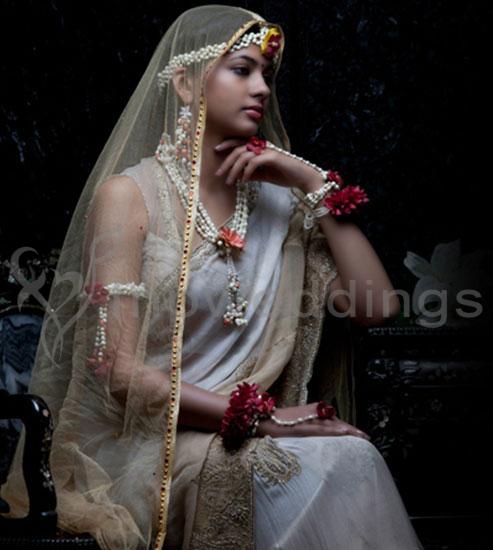 Fresh blossoms and floral accessories make every social celebration complete as they add to the beauty of your revelry. FNP Weddings imports the best of flowers and skilled worforce to create magic with flowers. Flower's being our forte we accessorize them in a way beyond imagination. From wedding garlands or the ring platter for the engagement, we do it all.
Floral Jewellery
Floral Jewellery is a fairly new & unique concept, which makes the Bride feel special. Most Brides adorn Floral Jewellery made from fresh flowers instead of Gold or Diamond Jewelleries for their functions like, Mehndi or Sangeet. We customize a wide range of wedding jewellery which includes earrings, necklaces, mang tikka, rings, bracelets, amulets and floral hairdos, hair pins etc.
Varmala
A Jaimala Ceremony is the auspicious start to the wedding ceremony and it has to be special. It creates the crescendo of the entire wedding ceremony. FNP's exquisite use of flowers and their colors have resulted in stunning Traditional Pieces as well as unique custom varmalas. The use of Tissue, Pearls, Green foliage, Rudrash, Kundan, etc with flowers; make the varmala an enticing piece of art.
Milni Mala: Delicate and beautiful ranges of milni mala's which symbolise the union of two families are made with utmost detail bearing in mind the importance and the relevance of the milni ceremony.

Pholoon ki chadar
The first glimpse of e bride as she walks towards the wedding altar is one of the most memorable and heart rendering moments in the entire wedding, We help you make this moment even more special by specially hand crafting a 'phoolon ki chadar' made not only from fresh flowers but sometimes also out of rich designer fabrics.

Car Decor
Be it a Mercedes or a simple palki, we decorate it with elegance and uniqueness. Moving away from the run of mill decor that one generally sees we have created a separate catalogue for car decor. All designs have been produced by renown designers and fashionista's Here comes the finest ride for the fall-winter wedding season- The Wedding Buggy by FNP Weddings. Taking a romantic horse-drawn carriage ride is a beautiful way to add a memorable touch of royalty and charm to your wedding day. Replace the swanky cars with the magnificent opulence of the wedding buggy. Let the majestic ride carry new couples of to their love laced world

Baggi Decor
We specialize in catering our clients a very high grade of flower decorated baggi. We especially create designer baggi's for the grooms that give them an amazing experience for their special day. Our services are known for their attractive, elegant and perfect themes. Our services can also be customized as per your requirement.