For the purpose of making lifelong memories, the wedding venue is the most imperative part of any wedding. Imagine taking pheras while surrounded by stunning natural features like snow-capped mountains, lush valleys, and crystal-clear rivers. "Land of the Gods" or what we popular know as Uttarakhand, is a state that offers picturesque views for weddings and pre-wedding functions. As most destination wedding planners in Uttarakhand can vouch, Uttarakhand is one of the perfect states to host an unforgettable destination wedding as it is home to an array of romantic locations and is located in the shadow of the stunning Himalayas.
1. Auli: A Winter Fantasy for Weddings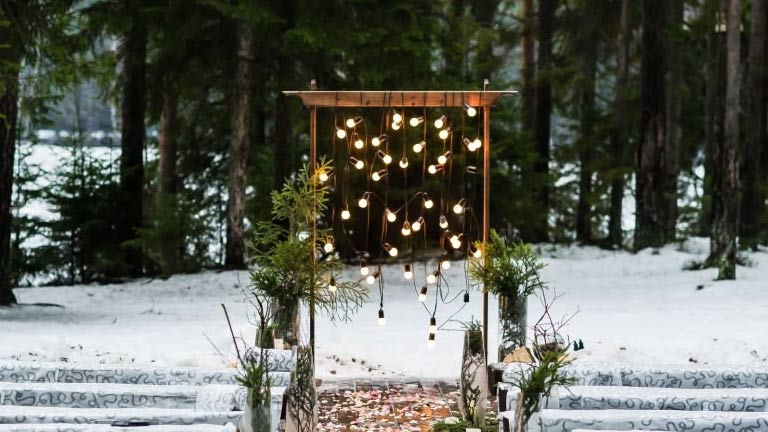 Auli is a stunning hill station that offers picturesque aesthetics, located in Chamoli region in Uttarakhand. It is an ideal and the most perfect spot for you if you have pictured yourself getting married amidst immaculately snow-covered hills. Its panoramic views of Mana Parvat and Nanda Devi, Auli offers a beautiful atmosphere with its lush oak trees. The local and friendly culture will give a touch of warmth and love to your wedding without a doubt.
As a part of your pre-wedding celebrations, you can give your guests a chance to go for skiing or snowboarding to add a touch of adrenaline and offer an unforgettable experience. These excursions are not only memorable but unique. The natural beauty of the place and the fairy-tale like surroundings will leave you and your guests in awe. As the snowflakes fall from the sky and grace your wedding celebrations, the entire experience will leave a mark of happiness. A sense of romanticism as a wedding theme is guaranteed as you see the Himalayas in the background and you take pheras amidst the beauty of this hillstation.
2. Mussoorie: Queen of Hills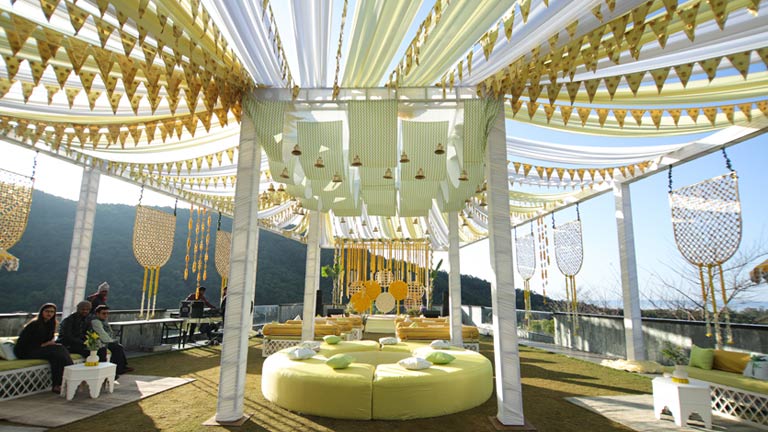 Couples have been drawn to Mussoorie, often known as the "Queen of Hills," as an escape for love for years. This hill-station, which is situated at a height of around 6,600 feet, provides incredible views of the Doon Valley and the Shivalik Range. Mussoorie offers a choice of locations that can meet your wedding needs, from lavish hotels to prehistoric churches. Your wedding planner will make sure that your wedding will have an ethereal feel owing to the beautiful weather, historical buildings, and foggy surroundings.
Getting married in Mussoorie provides an unusual blend of charm and serenity. The lush hills and the calm wind create the ideal setting for a romantic date. Imagine taking pheras in a lovely garden with the hills in the distance, or entering the aisle in a little church tucked away among the hills. The town's ancient appeal offers numerous possibilities for gorgeous pre-wedding photoshoots that will capture priceless memories that you will treasure always.
Also Read – Unique Events To Add To Your Destination Wedding Itinerary
3. Jim Corbett: The Majestic Jungle Wedding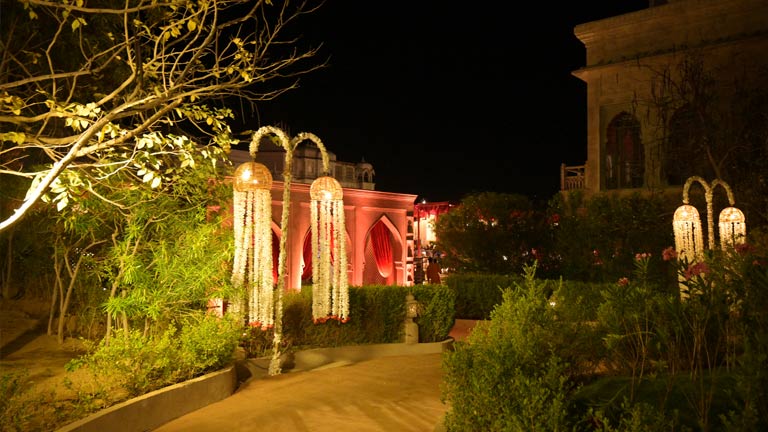 A destination wedding in Jim Corbett National Park is an excellent choice if you and your spouse have a deep connection and share a love of animals and nature in general. Jim Corbett National Park is India's oldest national park and it provides a distinctive and exciting wedding experience. Jim Corbett was a well-known hunter-turned-conservationist. It is surreal to host a wedding in the luscious woodlands, the sounds of the untamed animals lulling you to sleep. Numerous hotels and lodges around the national park provide wedding packages that incorporate safaris and parties with a jungle theme.
A wedding here is an unforgettable event since it takes place in the raw splendour of nature. The breath-taking scenery and fascinating species create an environment that is both exciting and inspirational, providing you the most natural kind of wedding decoration. Couples have the choice of a lavish resort that blends in with the surroundings or an outdoor wedding ceremony in the middle of the woods. The wildlife of the park, including the mighty elephants and the elegant deer, becomes a part of your celebration, making your wedding really one-of-a-kind and unforgettable.
4. Nainital:  A Beautiful Lake Wedding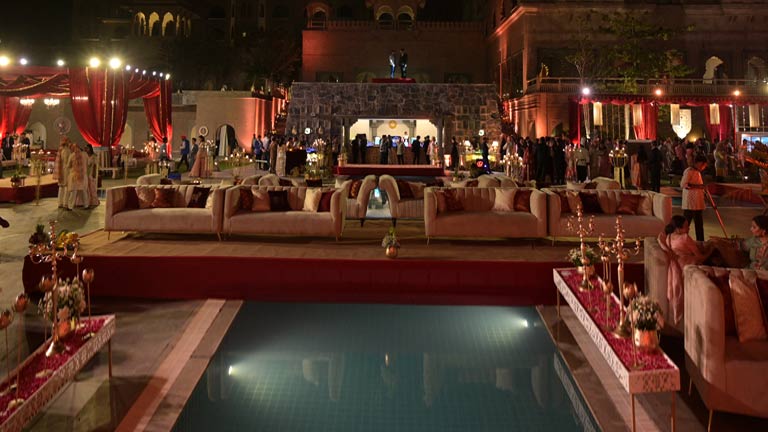 The gorgeous town of Nainital, which is constructed around the lovely Naini Lake, oozes romance and peace. This quaint hill station is surrounded by mountains on all sides and is adorned with beautiful flora. A lakeside wedding may be held in a calm environment amidst the alluring lake and the Naina Devi Temple. Because of Nainital's old-world charm, your wedding will be a truly unforgettable celebration, whether you select a five-star hotel or a heritage property.
An encounter with nature at its finest occurs at a wedding in Nainital. The charming lake and the hills in the area offer a tranquil atmosphere ideal for a small wedding celebration. Couples have a choice between a floating mandap or a traditional wedding on the lake's edge.The lake comes alive with glittering reflections as the sun sets over the calm waters, providing an amazing setting for your wedding photos.
5. Rishikesh: An Enlightening Riverside Wedding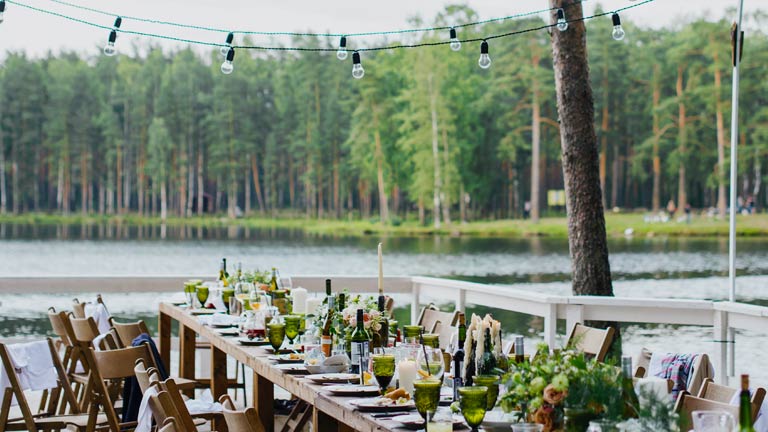 Located on the banks of River Ganga, Rishikesh is known to be a holy and spiritual destination. Thousands of people visit Rishikesh each year to find enlightenment. For those who are looking at the perfect amalgamation of adventure and spirituality, Rishikesh is the place to be for destination weddings. It is not only known for yoga and adventurous activities but the rise in commercial hotels and resorts there have allowed couples to organize beautiful and serene weddings in Rishikesh.
Adventurous couples who seek an adrenaline rush every and then can choose Rishikesh as a suitable location to get married to portray their adventurous spirit in their wedding and ensure that their guests have a great time. There are an array of options to choose from, such as a serene wedding set-up along the banks of the holy river or sundown pheras on top of a hill. Each setting brings its own uniqueness and a beautiful background that will leave everyone in awe. The vibrant energy of the place attracts many people to Rishikesh to get married.
If you decide to go ahead with any location mentioned above, it is guaranteed that you will have an unforgettable wedding. The beautiful surroundings and the warm hospitality will make your wedding dreams come true. With each place offering a unique attraction, you can either have a fairy-tale winter wedding or a mystical riverside wedding. One thing is guaranteed that your guests will have a memorable experience.