For generations, flowers have been charismatically linked to the splendour of traditional Indian wedding décor. The atmosphere at a wedding is made pure and calm by flowers. In reality, they are the reason why sentiments of jubilation, holiness, and tranquillity naturally arise in every wedding. Their splendour, vibrancy, and smell uplift the spirit. They are essentially used as table centrepieces, the stage background, the entrance, and mandap decorations, among other places.
The majority of Indian wedding ceremonies place a significant emphasis on flowers. Making a big statement with floral displays and wedding décor ideas in various forms has become popular. In this blog, we'll look at the stunning impact of floral decorations at weddings and offer suggestions for choosing the best blooms for a memorable and alluring occasion.
The Importance of Flowers in Wedding Decor
The traditions and rituals of Indian weddings are fundamentally based on floral design. It is believed to offer luck to the newlyweds and represents wealth, purity, and beauty. Flowers have a special way of bringing a calm and dynamic mood to the wedding venue while also bringing a feeling of purity and natural elegance.
Flowers are used in pujas, religious offerings, festivals, and celebrations and are one of the many components that tie India's immensely diversified cultures together. They are considered to be an essential component of the event rather than being disposable things utilised as floral decorations for weddings.
How important a role various types of wedding flowers play at Indian weddings is demonstrated by the exchange of the Varmala after the Baarat—at the start of the wedding—as well as by the bride's hair, the groom's veil (sehra), the adorned mandaps, and the floral showers of blessings. What importance do these flowers actually possess though?
How to use Floral Decor to Ramp up the Wedding Décor
1. Mandap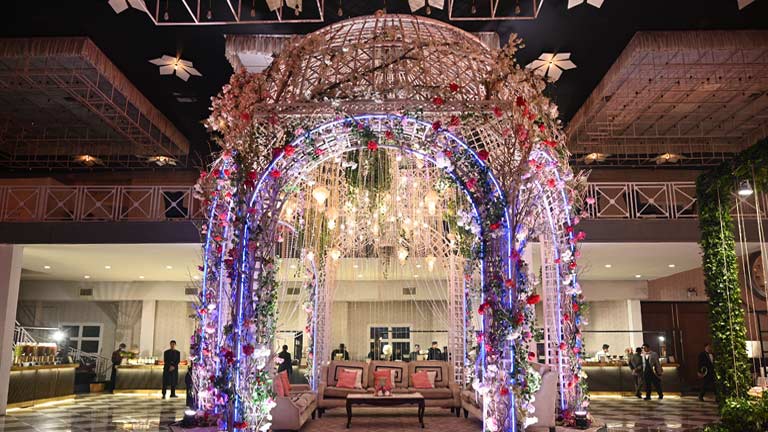 The most important ritual of a wedding is held at the mandap and it is crucial to add valuable decor elements for a mesmerising appearance. For a stunning mandap design, you can consider combining flowers like marigolds and roses. Hanging installations, flowery curtains, and drapes can amp up the mandap's visual attractiveness.
2. Walkway and Couple Entry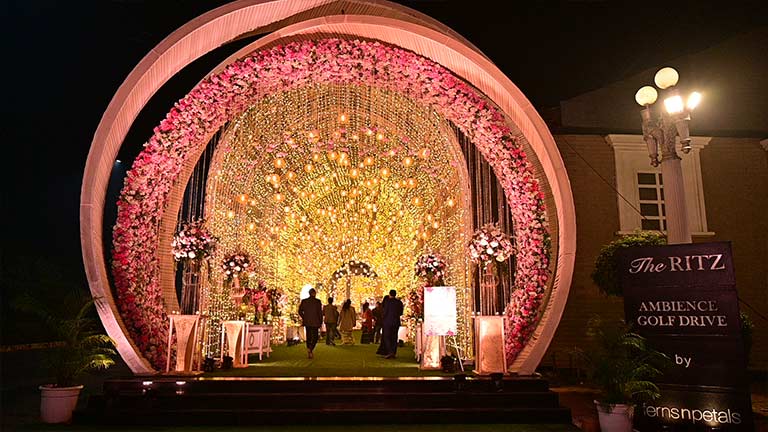 The entry establishes the tone of the wedding and this is where most of the photography takes place. Blending flowers such as marigold garlands and jasmine strings is a great idea to create an inviting and cheerful ambience. On the walkway, flowery rangoli patterns and arches may be quite eye-catching.
3. Centrepieces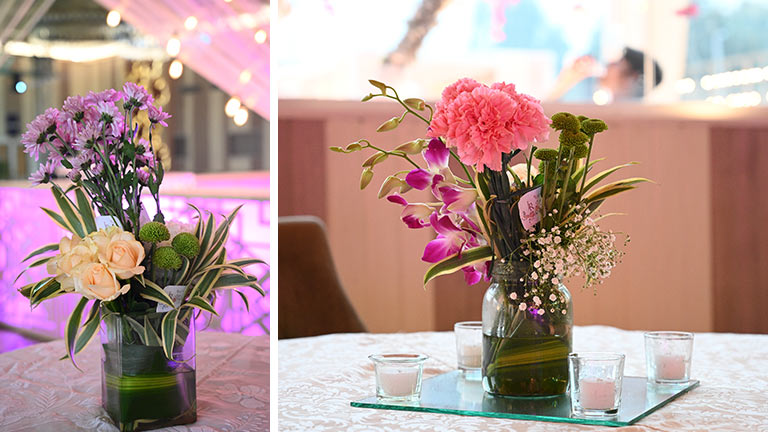 Tasteful flower arrangements can be used to spruce up the seating area tables as modern decor. To create an elegant and welcoming ambience, think about utilising roses, orchids, or mixed flower arrangements in ornate vases or candelabras.
4. Garlands and Jewellery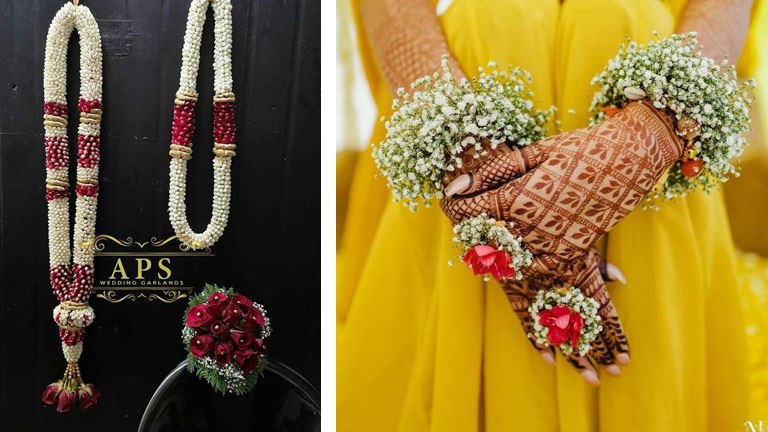 During the Varmala ritual, floral garlands are exchanged, signifying the couple's unity. The bride and groom's favourite flowers can be used to create these magnificent and heartfelt garlands. Another unusual touch is flowery jewellery, such as anklets and bracelets. Most brides opt for floral jewellery for events such as mehendi ceremony or haldi function if they opt for more designer weddings. It is easy to curate floral jewellery as per the outfits of the bride and they can incorporate beautiful flowers in their jewellery.
5. Sustainability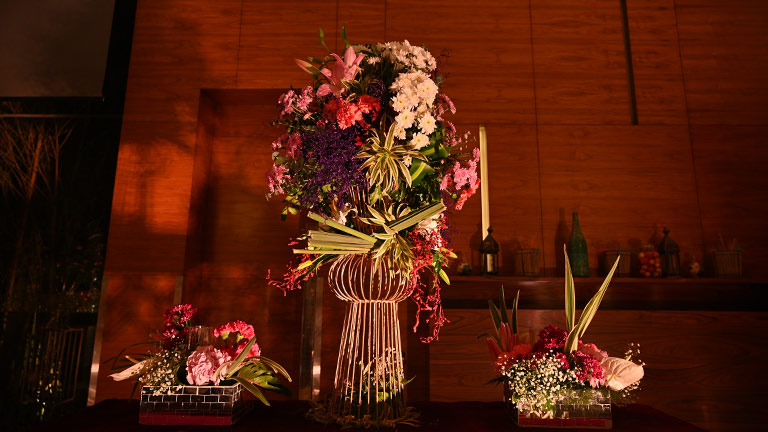 Most couples nowadays are choosing eco-friendly flower arrangements as their knowledge of environmental issues is increasing. Talk about environmentally friendly choices with your florist, including utilising potted plants that can be replanted after the wedding or locally produced, seasonal flowers. Making sustainable design decisions may give your wedding's décor greater meaning and can align with your morale.
6. Versatile and Diverse Set-up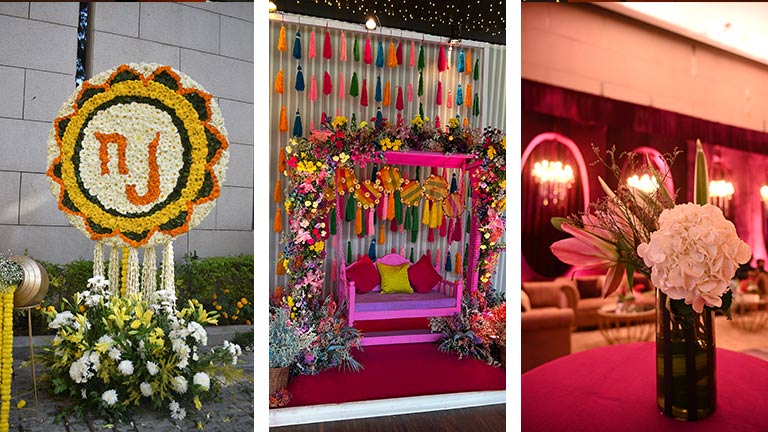 Indian weddings are famous for their assortment of customs and rituals. It is preferred to get flower arrangements that go well with every aspect of the celebration. For example, the main wedding ceremony can include a more conventional and magnificent design, but the mehndi or haldi ceremony may require bright and colourful floral arrangements.
Must Read – Add Games to Your Wedding Itinerary
Popular Flower Options for Indian Weddings
1. Orchids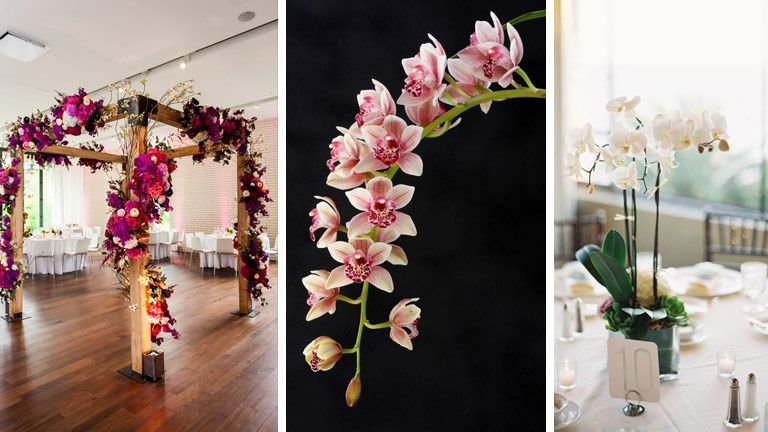 Orchids are a great options for modern and flamboyant weddings because of their durability and how exotic they look. Orchids as flowers signify wealth and elegance. As a part of wedding décor, they are bound to accentuate any corner where they are placed.
2. Jasmine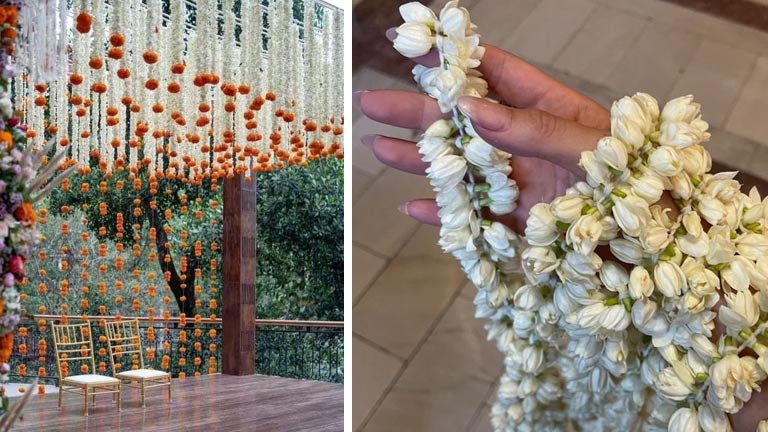 Jasmine is a common flower used in several weddings, either in décor, garlands or bridal hair accessories. They are used as jasmine strings as a part of elegant décor or as flowery drapes made out of jasmine buds. Jasmine, as a fragrant flower, represents love and sanctity.
3. Roses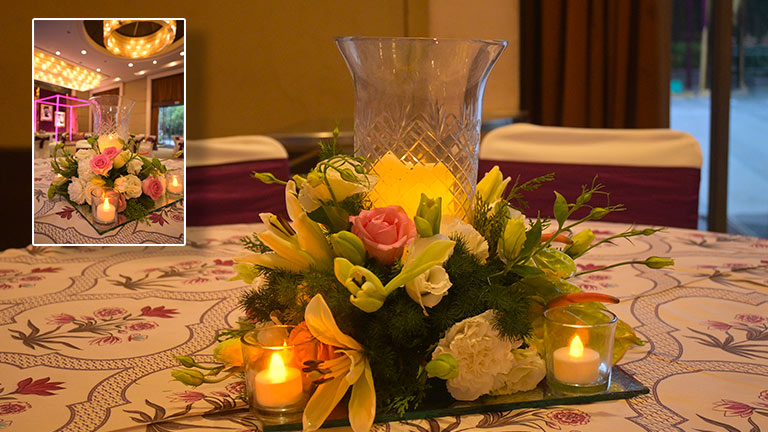 Roses are a symbol of beauty and love. Because of their adaptability, they may be used in bridal hair accessories and centrepieces, among other wedding components. Indian weddings are known to be very fond of red roses as it brings out the beauty of every element and red is the colour of love.
4. Marigold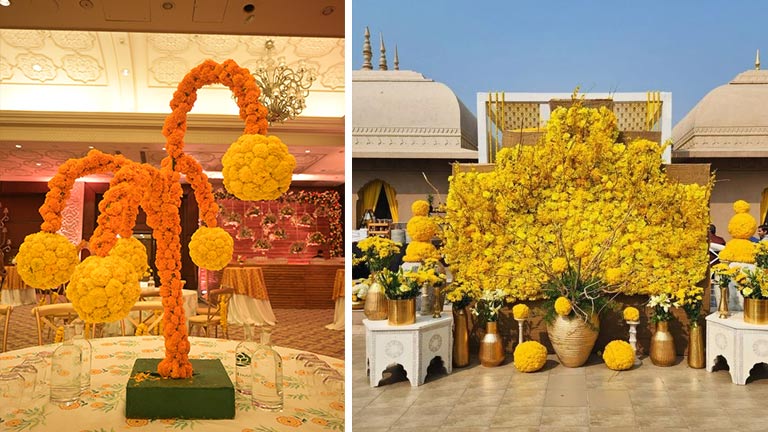 The Marigold flower is the most iconic and elegant flower used in Indian weddings. Its bright orange and yellow colours stand for joy and prosperity. You can decorate the mandap, the entry path and other décor pieces with garlands made of marigolds.
5. Lotus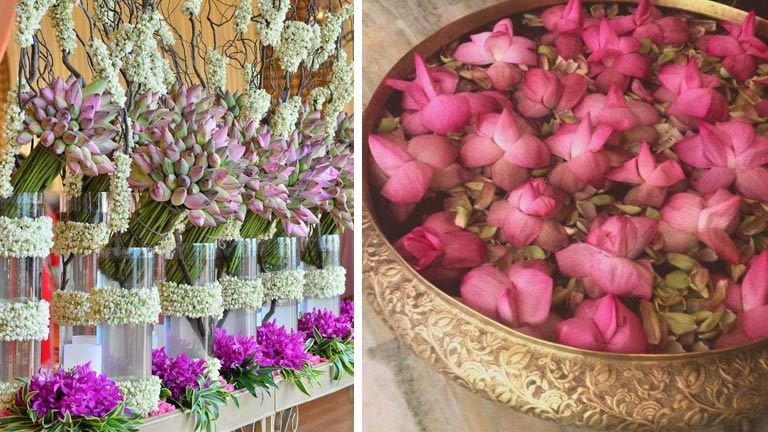 In Indian culture, the lotus is considered a holy flower that represents divinity and purity. It can make a stunning accent to the altar or mandap and is frequently utilised in religious rituals. Lotus has an elegant appearance and decorators usually use this flower in water bodies to bring a sense of serenity.
6. Tulips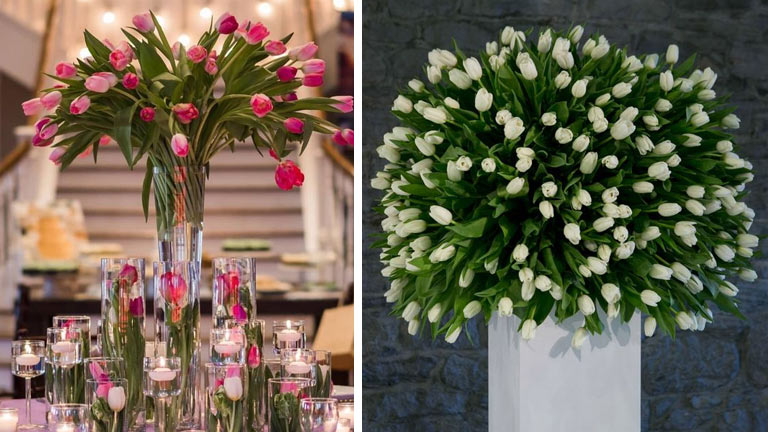 A flexible choice for wedding décor, tulips are a symbol of perfect love and come in a variety of colours. Their graceful, elongated form gives any arrangement a refined touch.
There is no denying the influence of floral design on Indian weddings. With the appropriate flower choices, your wedding venue may become a magical paradise that evokes feelings, represents love, and creates lifelong memories.